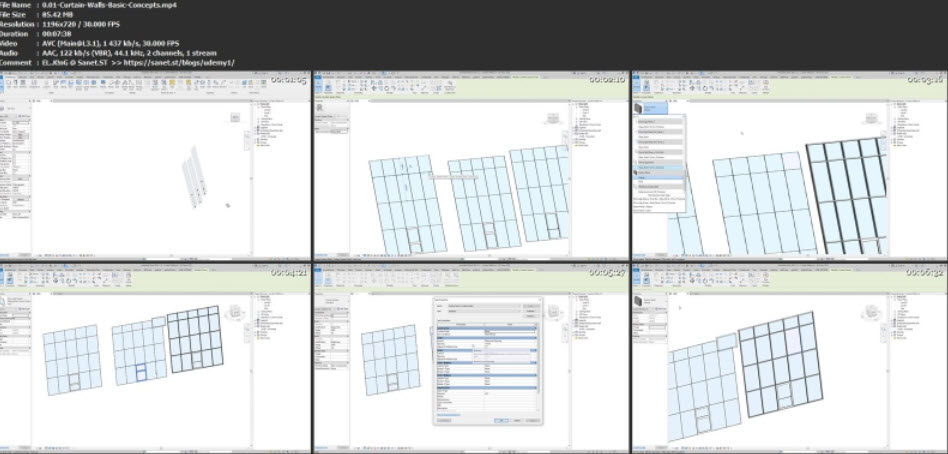 Revit Panelling pt1 Curtain Walls,Curtain Systems and Sloped Glazing
MP4 | Video: h264, 1196×720 | Audio: AAC, 44100 Hz
Language: English | Size: 3.79 GB | Duration: 5h 55m
While some courses claim to show you everything about Revit in 5 to 8 hours, this one is covering a single topic in 6 hours. The aim of this course is to deliver high quality content.
This course is the first part of an extensive program covering everything you need to know for panelling in Revit.
Starting with the most common ways to do it – using Curtain Walls, Curtain Systems and Sloped Glazing. What are they, how to use them, what limitations are there and how to make the most out of them.
How to create complex-looking results in a simple way.
Explaining some details that I didn't see in other courses.
Creating custom panels and custom mullions.
The course includes techniques for working with the above-mentioned Curtain Walls, Systems and Roof glazing as well as showing how to create not one, but two different panels from scratch.
Additionally, there is a bonus video at the end showing one way for achieving complex results with simple methods.
As always in courses, I also talk about techniques to help us think outside the box.
This course is straight forward and is suitable for Revit users who have tried a few things in Revit already as well as for beginners who want to learn as quickly as possible. Even some advanced users might find a few new techniques shown here.
In this course, I'm going to show you what we can do with the curtain wall panels and what are their limitations.
For more advanced techniques including Adaptive components and divided surfaces, differently shaped panels – triangular, hexagonal etc. check out the second part of this series.
you must be registered member to see linkes Register Now