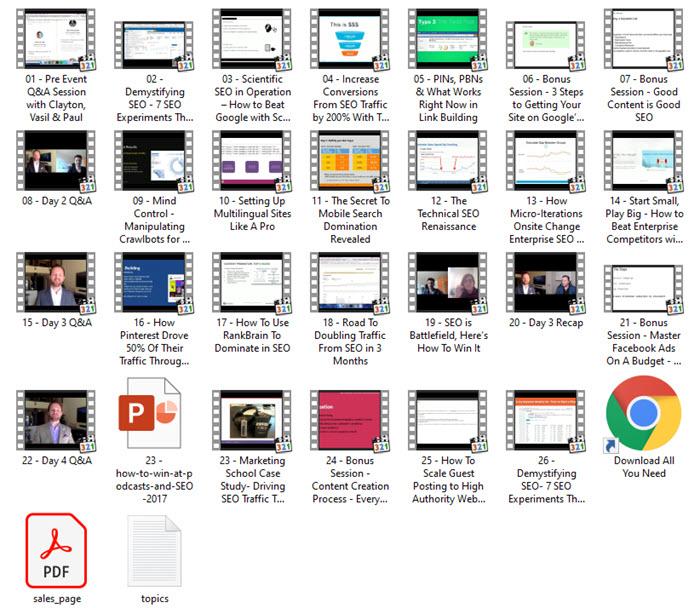 Neil Patel Advanced Seo Summit | 5.67 GB
mp4 | avc1: 640×480 G_P| Audio:mp4a-40-2 128 Kbps | Total files:31
Genre: eLearning | Language: English
This Exclusive Summit Will Show You How To:
Expand your backlink portfolio in 30 days, even if you dont have a budget
Create amazing articles that get shared, even if you arent a writer
Hack local search results to drive traffic right to you
Increase your rankings by 100 with the right site speed
Drive 58 targeted links from social media each and every week
Get actionable SEO data from Google Analytics in just ten minutes
Grow traffic by 10x from organic search
Generate 75% more traffic with my internal linking strategy
Attract over 9,000 new site visitors from Quora in just 30 days
Distill learnings from an analysis of 114,871 keywords for SEO
Session
1 Pre Event Q&A Session with Clayton, Vasil & Paul
Vasil, Clayton & Paul will be holding this session to answer any questions from the audience about times, contest & passes.
2 Introduction w/ Neil Patel
Neil Patel
Co-Founder at Crazy Egg & Hello Bar
3 Scientific SEO in Operation How to Beat Google with Science
Andrew Stubbs
CEO and Founder of IntelliGiants
Some of the most detailed maps of Googles algorithm will be covered in this session where we dive deep into how science can actually help you with SEO. These strategies arent for beginners.
4 Increase Conversions From SEO Traffic by 200 With These Hacks
Ryan Urban
CEO/Co-founder of Bounce Exchange
Increase Conversions From SEO Traffic by 200 With These Hacks
Converting Google traffic is the holy grail of funnel optimization. The co-founder of Bounce Exchange will share its massive resources to teach how to build the perfect converting page.
5 PINs, PBNs & What Works Right Now in Link Building
Glen Allsopp
Owner, ViperChill
Think link networks are a thing of the past? Well find out from one of the most experienced link builders in the business. Come learn which types of links make the most impact on rankings today.
6 Bonus Session: 3 Steps to Getting Your Site on Googles First Page
Brian Dean
Founder of SEO Training Blog Backlinko.com
Learn how to get quick traffic to a website using these cutting edge SEO tactics. Doubling your traffic is possible, but only if you follow these principles for on-page, content and link building.
7 Bonus Session: Good Content is Good SEO
SEO is a tricky game, but these simple tips will help you make sure your content is discovered.
8 Day 2: Q&A
Vasil and Clayton go live to answer questions about todays content, how to view it and everything in between.
9 Mind Control: Manipulating Crawlbots for Ultimate Success
Tyler McConville
CEO & Co-founder of NAV43
You can force Googlebot into the actions your site needs to improve your rankings. In this session well teach how this works, and how you can apply it to your site today.
10 Setting Up Multilingual Sites Like A Pro – hreflang
Joost de Valk
Founder & CEO at Yoast
One of the biggest issues SEOs have on site is setting up for different languages. This session teaches step by step how to do that and get higher rankings with it.
11 The Secret To Mobile Search Domination Revealed
Maryna Hradovich
President at SEMrush
After years of tracking more SEO data than most of the industry, SEMrush president Maryna Hradovich will show you what mobile strategies work the best for ranking in Google in 2017.
12 The Technical SEO Renaissance
Michael King
Managing Director at iPullRank
Learn why technical SEO is more important than ever, and why SEOs need to truly understand javascript and its impacts. Crawling has changed and our tools need to change with it. Case studies will be used to demonstrate the impact on how just the technical items can still have a dramatic impact.
13 How Micro-Iterations Onsite Change Enterprise SEO by the Millions
Tony Tie, Sr.
SEO, Expedia Canada
The Sr SEO for Expedia will explain how much on page factors affect business, how to hedge your bets for Googles algorithm months before it happens.
14 Start Small, Play Big: How to Beat Enterprise Competitors with Their Own SEO Tactics
Aaron Agius
Co Founder and Managing Director at Louder Online
Weve worked with some of the largest brands in the World like Salesforce, IBM, Coca-Cola and more, and we know exactly what gaps exist in their SEO. In this session you will learn how any business, no matter the size, can compete and beat their enterprise competitors in Search.
15 Day 3 Q&A
Vasil and Clayton go live to answer questions about todays content, how to view it and everything in between.
16 How Pinterest Drove 50 Of Their Traffic Through SEO
Casey Winters
Growth Advisor in Residence at Greylock Partners
This mega brand drives half of their traffic from organic search. In this session youll learn how theyre doing in and how you can capitalize on your sites content and use it to help you gain top rankings in search.
17 How To Use RankBrain To Dominate in SEO
Nick Chasinov
Founder | CEO Teknicks
Googles new machine learning AI technology is shaking up the industry. In this session you will learn how to reverse engineer RankBrain, embrace it, and leverage its power to dominate in SEO.
you must be registered member to see linkes Register Now