HubSpot for Sales Sequences Workflows & Reporting
MP4 | Video: h264, 1280×720 | Audio: AAC, 44.1 KHz
Language: English | Size: 7.12 GB | Duration: 7h 31m
A deep dive into HubSpot Sequences, Workflows & Reporting for Sales professionals
What you'll learn
Close hot leads the automated way with HubSpot Sequences
Build simple HubSpot Workflows to save time with data entry, lead assignment and other sales tasks
Build complex HubSpot Workflows with Conditional Segmentation to build multiple sales journeys for your customers
Create a comprehensive Reporting Dashboard to measure sales performance
Use the HubSpot Forecasting tool to monitor progress towards sales goals
Requirements
You need to know your way around the HubSpot CRM (adding contacts to HubSpot, creating lists, emails, and forms)
You need access to Automation (At least Sequences!) and Reporting in your HubSpot account
Description
Are you a Sales professional using HubSpot? If you're familiar with the HubSpot basics and know your way around the HubSpot CRM, it's now time to take things to the NEXT LEVEL.In this course, we cover HubSpot Sequences, Workflows, and Reporting for Sales professionals and teams – You'll learn how to leverage the power of Automation to close more deals without manual effort. If you want to learn HubSpot Advanced Sales features with a special focus on Automation and Reporting, this course is for you.At the end of the course you will be able to:1) Create effective HubSpot Sequences to close deals without manual input Send automated emails that look and sound personalSet up reminder alerts to help you with your to-do'sAutomate tasks for calls, to-do's, and others2) Plan, draft, build and publish Workflows from scratch by yourselfBuild simple Workflows to save time with data entry, lead assignment, updating properties, and other administrating workBuild complex Workflows with Conditional Segmentation (using Branches to segment your audience into different groups based on specific conditions you define – targeted messaging is the most efficient way to move leads down the Sales funnel!)Tweak your Workflow Strategy thanks to our real-world examples3) Monitor closely your sales performance with HubSpot Reporting and ForecastingSet up comprehensive Reporting dashboards Build all types of reports by yourself – Single Object Reports, Funnel Reports, Attribution Reports, and moreUse the HubSpot forecasting tool to monitor progress towards your Sales goals in a visual wayATTENTION:This course is NOT an introduction to HubSpot – If you need a HubSpot intro or a refresher course, check out my Instructor Profile. I have a course called HubSpot for Sales Professionals – this one will be more suitable for you!This course requires access to HubSpot Automation (Sequences at least) and Reporting – In this course, we cover Sequences, Reporting, and Workflows. You can definitely skip the Workflows section if you have limited access to this feature, however, Sequences and Reporting are a must-have! Ensure you have access to both before you purchase this course. I am a certified independent HubSpot expert providing HubSpot account management and training services to companies and professionals from all over the world. I have 14+ years of experience in Digital Marketing (4 working exclusively with HubSpot) and love helping businesses and professionals grow by learning HubSpot.This is one of my student testimonials:I just completed the course – and my only reaction is: WOW! Super valuable for entrepreneurs, consultants (such as myself), and small businesses. Thalita successfully managed to transfer her rich knowledge in a meticulous manner. This course is easy to comprehend and incorporate into your business strategy. I honestly never knew what were the actual possibilities of the HubSpot platform and now I finally do! Thank you so much for this course! Tamara Biljman, Content Strategist- Feel free to check out my website for more testimonials.I take pride in assisting my students and coaching clients throughout the learning journey, so feel free to ask me any questions at any time during the course.–ThalitaThis course is an independently developed course offered by Thalita Milan and has not been created, endorsed, or verified by HubSpot, Inc. HubSpot, Inc. shall not have any liability with respect to this course offered by me, Thalita Milan.
BHUANETRADOPEOTDSAESQUETDNCEWDSKFL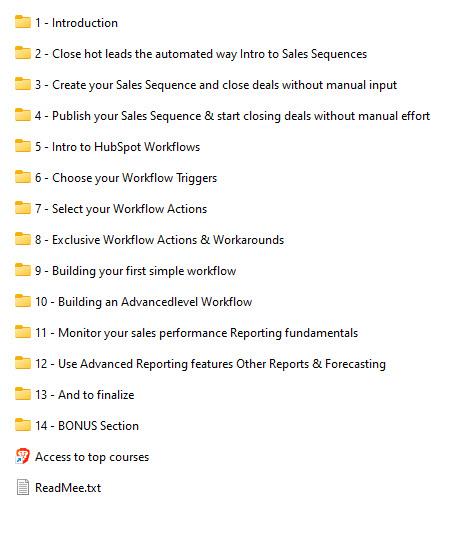 you must be registered member to see linkes Register Now