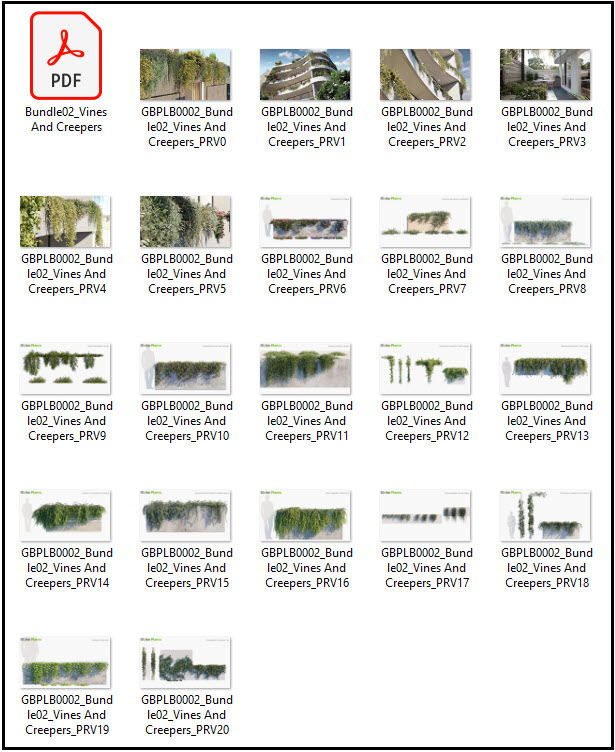 Globe Plants – Bundle02 – Vines And Creepers
This bundle 02 includes 15 common vine and creeper species with over 75 unique models that come with many forms that can be used for many of your scenes. With MESH format you only need to drag and drop and ready to render, with GrowFX format, you gain maximum flexibility to edit the plants as much as you like.
All models were made with the highest possible detail with an accurate representation of species used for both Corona and VRay Renderer.
List of species:
Carpobrotus Edulis – Pigface
Carpobrotus Glaucescens – Aussie Rambler
Dichondra Argentea – Dichondra Silver Falls
Grevillea Royal Mantle – Grevillea
Hardenbergia Violacea – Purple Coral Pea
Myoporum Parvifolium – Yareena
Pathenocissus Quinquefolia – Virginia Creepers
Pathenocissus Sikkimensis – Sikkim Creepers
Phyllanthus Cochinchinensis – Phyllanthus
Rosmarinus Officinalis 'Prostrate' – Creeping Rosemary
Sedum Morrganianum – Donkey's Tail
Tarimounia Elliptica – Vernonia Creeper
Trachelospermun Jasminoides – Star Jasmine
Viola Banksii – Native Violet
Vitis Coignetiae – Crimson Glory Vine
you must be registered member to see linkes Register Now