Designing Vector Based Characters In Moho Pro
MP4 | Video: h264, 1280×720 | Audio: AAC, 44.1 KHz
Language: English | Size: 1.93 GB | Duration: 3h 40m
Learn how to design cartoon characters in Moho Pro using vector points and other tools!
What you'll learn
Assemble a workflow for designing Moho characters for graphic design or animation
Requirements
A copy of Moho Pro 12 or later
Description
While Moho is known for animation, it has a wide range of vector design tools that can be useful for creating artwork. Vectors are nice due to their flexibility with animation and inability to degrade in quality when blowing up the design. Moho can design still art or complex objects and characters for animation. In this course you will learn all about designing a character for animation in Moho, including:Importing a sketchThe Add Point Tool to morph and shape various partsThe Curvature tool for creating nice curves and bendsBuilding a head, hair, body, limbs and moreApplying line details to maximize appealApplying shades and highlights to breathe life into the rigBuilding and masking eyes and mouth for easy animation later onOther tips and tricks to help you succeed in designing characters in Moho Pro
Overview
Section 1: Welcome!
Lecture 1 What You Will Learn in this Course
Lecture 2 Sketching a Character
Lecture 3 Importing Sketch into Moho
Section 2: Designing the Head Pieces
Lecture 4 Designing the Head Base
Lecture 5 Designing and Masking Eyes
Lecture 6 Drawing Eye Brows
Lecture 7 Drawing the Hair
Lecture 8 Designing the Ponytail
Lecture 9 Drawing and Masking the Mouth
Section 3: Drawing the Body
Lecture 10 Designing the Neck and Shirt
Lecture 11 Drawing the Coat
Lecture 12 Drawing the Pelvis and Cat Belt Buckle
Lecture 13 Drawing the Front Arm
Lecture 14 Drawing the Front Leg
Lecture 15 Drawing the Front Ankle and Foot
Lecture 16 Drawing the Hands
Section 4: Adding More Line Work and Details
Lecture 17 Adding in Hair and Face Lines
Lecture 18 Detailing the Ponytail
Lecture 19 Drawing Shirt Design
Lecture 20 Drawing and Masking Coat Details
Lecture 21 Detailing the Pelvis
Lecture 22 Drawing Arm Details
Section 5: Adding Shades and Highlights
Lecture 23 Shading the Head and Hair
Lecture 24 Shading the Coat
Lecture 25 Shading the Pelvis and Limbs
Lecture 26 Highlighting the Head and Hair
Lecture 27 Highlighting the Coat, Pelvis and Limbs
Lecture 28 Duplicating the Front Limbs
Section 6: Wrapping Up
Lecture 29 Ensuring Line Width Consistency
Lecture 30 Polishing Up Line Work
Lecture 31 Polishing Up Hands
Lecture 32 Comparing Design to the Original
Lecture 33 Final Thoughts
Students looking to design characters with vector tools,Beginners looking to learn Moho,Designers looking for a crash course in Moho's Draw tools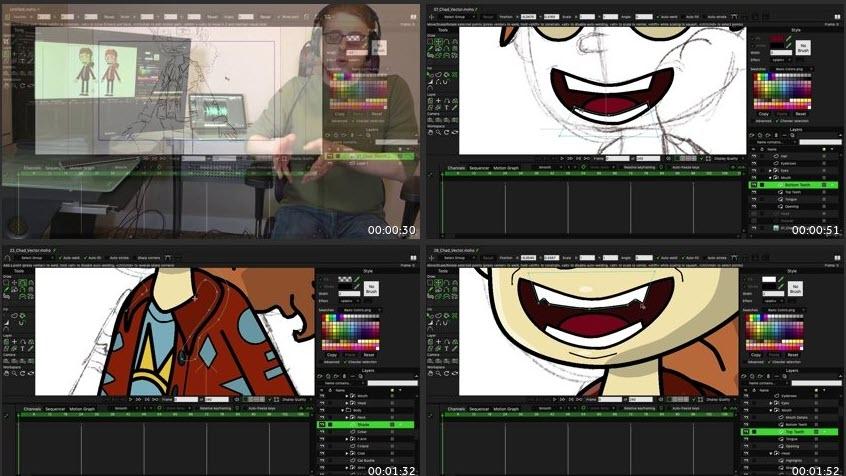 FDEAIDHGEVSTERRORDFEBASEDJEGCARSTFE
you must be registered member to see linkes Register Now