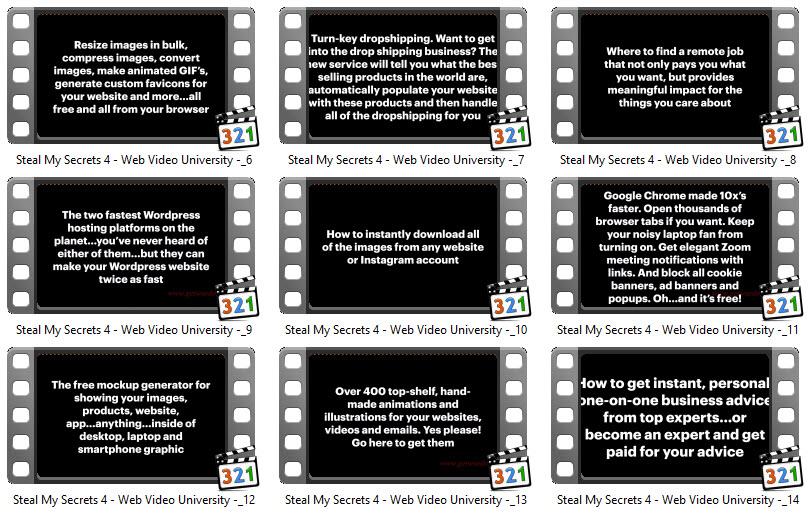 Dave Kaminski – Steal My Secrets 4
101 Profit-Making, Time-Saving
and Problem Solving Secrets, Hacks
& Tools For Your Online Business
That You Never Knew Existed.
What You Get:
It's Like a Roledex of Answers To
To Your Online Business Problems
In fact, any one of the secrets I share could save you weeks of wasted time, bring you thousands of visitors or thousands more in sales. And I'm giving you a virtual treasure chest full of these secrets.101 of them!
Here's a quick peek at just a few of them:
– The best video lights you've never heard of.cheap, portable and used by pros because the light makes you look so damn good!
– Where to get eye-popping, pro animations for your website that look like they cost a fortune.for absolutely free!
– Forget Adobe, Apple, Camtasia, Screenflow and others.here's how to create and edit your videos 100% online without hassles!
– The fastest and easiest way to sell your stuff online. Period.If you're a techno-phobe, this is for you!
– Digital courses are so 2019.here's how to sell your knowledge LIVE and to people around the world with a real-time, interactive classroom!
– The fastest and easiest way to make gorgeous landing pages in just minutes (and no, it has nothing to do with WordPress)
– Looking for a dirt-cheap email service provider that isn't MailChimp or AWeber, is incredibly easy to use and has fantastic delivery rates?Try this one that you've never heard of.
Plus How To Turn Your Digital Courses
Into a Search Engine!
Video training is great, but videos aren't searchable. So if you (or your customers) don't take notes while going through a video course, you (or they) are screwed. You'll have to scrub through hours of videos trying to find that one thing you can't remember.
Now that problem is solved. I'll show you how to turn your digital courses into a search engine, where users can simply type whatever they are looking for and they'll be shown the exact spot in your videos where the answer appears!
Even better, by offering this search feature in your training, you can charge more for your courses! And here are even more secrets, hacks and tools you'll get inside of Steal My Secrets 4:
– The free online scheduling calendar for your business.don't pay Calendly or Acuity or anyone else.use this, it's just as good, completely private and 100% free!
– Screen recordings, transcriptions, podcasting, video editing, audiograms and more.all in one single tool!
– How to build a online social community.where people pay you every month.complete with private messaging, Zoom calls, events, e-learning and more.using only WordPress!
– Everyone has at least one book in them.here's where to get bookstore quality copies of your book printed for dirt cheap! (it has nothing to do with Amazon)
– 3 "swipe file" resources where you can copy, borrow and steal the best email, sales and ad copy.and it's all proven to convert!
– Creating forms on your website and getting them to work is a pain in the a**.And they are usually ugly too. Here's how to create any type of beautiful form; contact, subscribe, payment and more, in just minutes!
– Build multiple websites in minutes, add memberships and digital products to them, accept payments and more.for just $16? Here's where you can do it.
Use Brave Browser that helps when download from Uploadrar
brave.com
you must be registered member to see linkes Register Now