Chad Bartlett – Affiliate Marketing Boss Bootcamp
What You Get:
WEEK 1
The Affiliate Marketing 3.0 Ecosystem
Learn exactly how to build a full-time business online using the affiliate marketing 3.0 system.
First you'll discover how to make your first few sales extremely quickly using a new traffic source no matter what your experience level is.
Then I will show you how to build a massive digital empire of mini brands that make commissions for the long term.
.Once We've Reveal How To Have Quick Wins & Long Term Success To Achieve Financial Freedom With Affiliate Marketing 3.0.We'll Set Up Your Automated Funnel
WEEK 2
Automated Affiliate Funnels
How to setup an affiliate marketing funnel that collects lead and sells for you on autopilot.
My exact framework for creating high converting opt-in pages and bridge videos that have made me over 7 figures (with real examples)
Watch me build an affiliate marketing funnel + get your funnel personally reviewed by me on the weekly calls (if you want to).
.Once You Have Your Funnel Up & Running I'll Show You How To Follow Up With Leads Using Email. But This Will Be All Automated.
WEEK 3
Email Automation
Having an email list that trusts you is the closest way to legally print money using a few sentences and a click of a button.
Get my exact email templates / formulas I use to write all my emails that makes it simple and easy for anyone to write (plus LIVE email reviews)
Learn how to setup and craft automated emails that build massive trust with your leads so they buy from you..
.Once You Have Your Automated Emails Are Setup I'll Show You How To Quickly Get Your First Few Sales Online For FREE Without A Big Audience.
WEEK 4
TikTok Traffic
Learn the absolute fastest way to get your first few sales using simple 15 – 60 seconds videos that are easy to make.
Get my exact framework for creating and coming up with content that turn into leads and sales for your buinsess.
You can do this and still get RESULTS even if you don't want to show you face or have any "guru" like results.
.Once You've Made Your First Few Sales With Affiliate Marketing You'll See How I Use Youtube To Create a Piece of Content Once & Have It Bring Me In Sales For Months.
WEEK 5
Youtube Traffic
I was making over $10,000 per month from Youtube alone when I had less than 10K subscribers.
Full tutorials on everything you need to know to create successful Youtube channel from scratch even if you're not good on camera.
See my exact process I use to generate thousands of high quaility leads per month on Youtube while getting paid for it.
.Next I'll Show You How I Use Facebook Groups To Make 24% More Sales & Get More Leads All While Building Massive Trust With My Audience
WEEK 6
Facebook Groups
Your leads will only buy if they feel like they know, like, and trust you.and that's where your email list & Facebook Groups come in.
Facebook groups increase my sales by 24% and gets me hundreds of new leads every month all while gaining more trust with my leads.
I'll show you my exact framework that allows me to run a successful Facebook group that takes me less than 1 hour per week to manage.
.Plus I'll Even Show How To Transform Your Personal Facebook Profile Into a High Converting Affiliate Funnel That Gets Traffic & Sales For You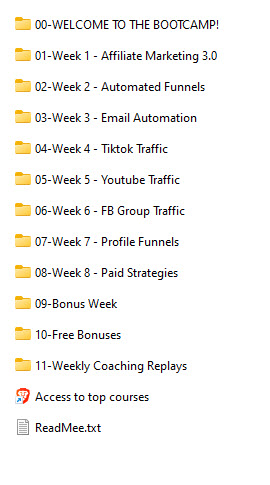 CHAEDEDBDLETTERDAFEILEMANBOSDBTMPCP
Use Brave Browser that helps when download from Uploadrar
brave.com
you must be registered member to see linkes Register Now