Become an Agile Business Analyst in Scrum – IIBA® Endorsed
MP4 | Video: h264, 1280×720 | Audio: AAC, 44.1 KHz
Language: English | Size: 3.62 GB | Duration: 3h 5m
Learn the concepts and standards of the Agile Extension to the BABOK Guide, then leverage it to become AAC certified
What you'll learn
Master key BA techniques including personas, product roadmaps, MVPs, Kano analysis, user stories, retrospectives, and more.
Learn what an Agile Business Analyst is, what they do, and how they do it
Understand the Agile BA role in the three agile horizons: Strategy, Initiative, and Delivery.
Embrace the agile mindset as a business analyst and successfully help organizations evolve.
Prepare for the Agile Analysis Certification (AAC) issued by the International Institute for Business Analysis (IIBA).
Requirements
This course covers all the foundations. No prior experience required!
Description
Business Analysts working in organizations that use an Agile approach are often referred to as Agile Business Analysts, and they play an instrumental role in helping teams efficiently deliver valuable, high-quality products.
One of the leading organizations in providing standards for Agile Business Analysts is the International Institute of Business Analysis, better known as the IIBA. The IIBA provides guidance on the skills and techniques that are important for Agile Business Analysts to be successful. And these standards can be found in their publication, the Agile Extension to the BABOK Guide.
In this course, within 3 hours of high-quality video lectures, we break down the Agile Extension standards to help you grasp those concepts. This includes
The role and responsibilities of an Agile Business Analyst
Core agile business analysis principles
Analysis of the Strategy, Initiative, and Delivery horizons
Application of the business analysis principles in each horizon
Advanced agile business analysis techniques
And since 2 out of 3 organizations, nearly 70% of them, are using Agile today – these skills and techniques are in high demand.
This comprehensive Agile Business Analyst course is endorsed by the International Institute of Business Analysis (IIBA®) and has been verified to thoroughly cover the standards explained in the Agile Extension to the BABOK Guide. While this course is not meant directly as exam prep, the knowledge taught can be leveraged to assist you in passing the IIBA's Agile Analysis Certification (AAC), since its questions are based on the Agile Extension standards.
As an added bonus, with this course, you get the information explained from the viewpoints of multiple instructors. Allowing you to have complex topics broken down from different perspectives, aiding in your comprehension. And as expected, we have activities and quizzes throughout the curriculum to help you validate and apply your new knowledge and skills.
So whether you are
– an aspiring Business Analyst looking to gain the knowledge to land your first Agile BA position,
– a current Business Analyst wanting to increase your Agile BA skills, or
– someone who wants to become AAC certified
This course is perfect for you!
And since our courses include a free preview and come with a money-back guarantee, you have nothing to lose and so much knowledge to gain.
Come take a look, and hopefully, we will see you in the classroom!
Who this course is for
Aspiring Business Analysts from all backgrounds looking for a deeper and more practical understanding of the Business Analyst career path
Current Business Analysts that are new to agile and want to understand how their roles fit agile organizations.
Current Business Analysts who are looking to prepare for the Agile Analysis Certification (AAC) from the International Institute for Business Analysis (IIBA)
Product managers, developers, managers, and marketers who want to develop an expertise in the process from product strategy to delivery
Anyone interested in working in an agile team including aspiring Business Analysts, Project Managers, Product Owners, Scrum Masters, Developers, Quality Assurance Managers, and more.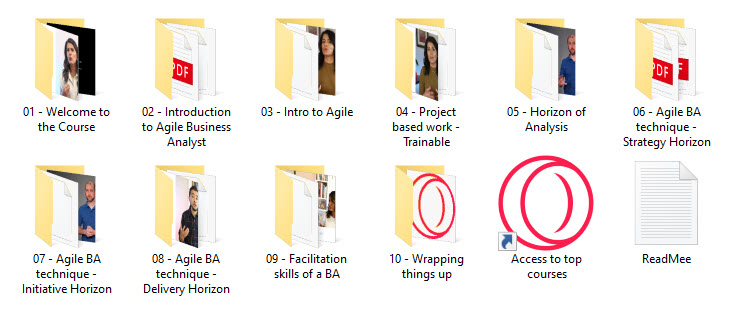 BECEODMLRJAEGILEJDHBUSDIJEHDANEHDLYS
Use Brave Browser that helps when download from Uploadrar
brave.com
you must be registered member to see linkes Register Now