Microsoldering: Everything You Need to Know to Get Started
What you'll learn
How to make money in your repair shop with common microsoldering repairs
How to fix a customer's phone that was damaged after a general repair
How to diagnose and troubleshoot common logic board problems
The basics of data recovery via microsoldering
Requirements
Experience with iPhone disassembly.
Basic soldering experience would be helpful.
Basic electronics troubleshooting would be helpful.
Description
Please note that this course is mainly geared toward BEGINNERS looking to get into the world of microsoldering. This course is not for those that have been in the business for a while now. Our aim to help repair technicians and hobbyists get a better understanding of how to get started with their microsoldering journey.
In this course, we will teach you the skills needed for iPhone logic board repair. The course is comprised of 4 standalone courses combined into one full curriculum. The course is roughly 4 hours of online video content. You will get access to this content for life. We will periodically update this course with new repairs and information regarding microsoldering.
The Basics
The basics of iPhone logic board repair.
How a logic board works and how its components operate.
The most important tools required for logic board problems.
Complete list of tools and equipment needed for iPhone logic board repair.
The most important reasons for logic board damage and the most common problems resulting from that damage.
The core of this business and how to get the most from iPhone logic board repair.
How to troubleshoot a damaged logic board.
How to test components.
Examples of how a typical repair goes in a real world example from A to Z. The first case is a water damaged iPhone not powering on. And the second case is an iPhone 6/6+ with a bad touchscreen.
How to setup and use some of your tools and equipment.
How to setup your hot air rework station.
How to setup and use your micro pencil and tweezers.
How to setup your dc power supply for powering up an iPhone without a battery.
How to use diode mode on your digital multimeter to diagnose and troubleshoot problems quickly.
ZXW Tools
How to use ZXW tools dongle for troubleshooting and repairing iPhone logic boards.
The different functions the tool offers.
How to find the circuit lines.
How to test lines for problems.
How to repair a missing pad.
How to repair long screw damage on an iPhone.
How to determine the type and value of components.
Where to source components.
How to get images of these components within the software.
No Backlight, No Touch, & No Charge
How to repair the 3 most common iPhone logic board problems: no backlight, no touch and no charge.
How each system operates.
Discuss the functions of each component within each system.
List all of the relevant system components.
Discuss the most important reasons for these logic board problems.
Teach you how to diagnose and troubleshoot which components are responsible these issues.
Teach you how to perform each repair.
Discuss how to tackle the complications that may arise post repair.
Data Recovery
List the most common reasons for "no boot".
List some ideas on how to make a dead iPhone power up again.
Provide a 10 step approach on how to revive a dead iPhone.
Discuss in detail the steps required to repair a dead device.
How to diagnose whether a device is actually dead or not.
Provide hands on examples of how to do the repairs.
Which circuits are important for data recovery.
How to test important circuits.
How to repair software issues.
How to solve complications post repair.
We will use the iPhone 6 as a model. But our approach will be translatable to other iPhone models as well. This course will be periodically updated with more common repairs.
Who this course is for:
Beginners looking to get a better understanding of microsoldering
Hobbyists looking to expand their knowledge of logic board repair
Cell phone repair techs looking to fix a customer's phone that they damaged
Cell phone repair shops looking to expand their business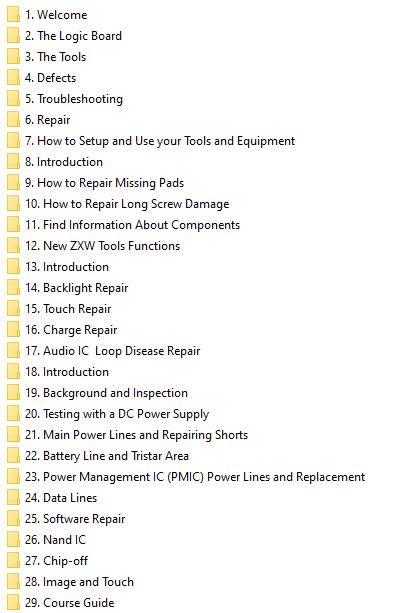 you must be registered member to see linkes Register Now