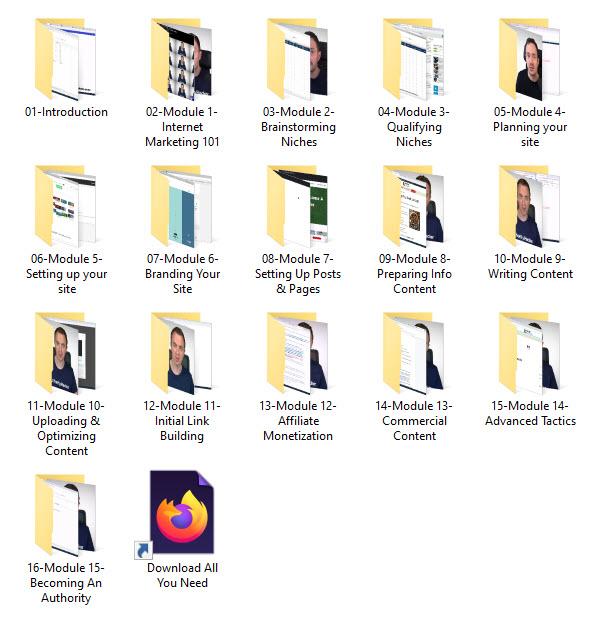 Gael Breton & Mark Webster – Authority Hacker Pro (2021)
Authority Hacker Pro Is Lifetime Access To Our Most Advanced Training Programs & Updates, Together With Lifetime Access To Our Pro Community.
Over 420+ step-by-step over the shoulder "blueprint" video courses with full lesson notes.
Copy / paste marketing templates, automations, landing pages, workflow systems, hiring plans and more.
Detailed Standard Operating Procedures (SOPs) to give to your team so they can execute for you.
An active community of elite marketers you can turn to for advice, motivation and partnerships.
Learn & Become A Full-Stack Online Marketer
With Our Growing Library Of 420+ Over The Shoulder Video Blueprints
Output More Content Than Ever
WITH OUR ADVANCED CONTENT CREATION BLUEPRINTS
Everyone knows that successful websites must have great content. But how do you scale content production, while also improving quality and cutting costs?
It's very challenging to do all of that at the same time.
This is why we have put together a collection of advanced blueprints that show you exactly how to setup your content production engine for maximum productivity.
The Keyword Research Blueprint: Inside this blueprint, we will build a framework that will allows you to consistently find new keywords you can rank for with your site. You will also be able to keep a close eye on what's working in your niche so you never miss a winning trend.
The Building Your Content Team Blueprint: To grow, you need to produce a lot of content and it needs to be super high quality. In this blueprint, we'll show you our incredibly detailed hiring process and how you can use it to hire a team of A-players to create content for you, without breaking the bank.
The Editorial System Blueprint: In this blueprint, we'll show you exactly how to structure content into repeatable formats that you can train your staff to execute with minimal input from you. You'll also build a complete editorial production workflow system.
Simply use our premae job ads & screening process to find the perfect candidate to run the process for you.
Then use the documentation we also prepared for you to train them and show them exactly how to execute the process. This way, you just have to follow the hiring & management process and let others do the grunt work.
– Speed up implementation with done for you customizable templates
– Increase your success rate from field tested templates
– Enjoy quick results from all the time you save
you must be registered member to see linkes Register Now