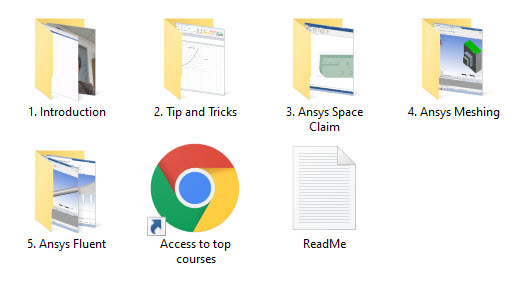 Ansys Fluent Class 1 to 6 | 12.8 GB
Include:
Ansys Fluent Class#1 -Size: 1.84 GB
Ansys Fluent Class#2 -Size:1.40 GB
Ansys Fluent Class#3 -Size:2.52 GB
Ansys Fluent Class#4-Size: 1.32 GB
Ansys Fluent Class#5 -Size: 3.72 GB
Ansys Fluent Class#6-Size: 1.62 GB
Space Claim Core Skill, Meshing Core Skill, Ansys Fluent Overview and Workshop-Air Manifold
What you'll learn:
They will learn how to analyze and simulate the engineering models
Requirements
Basic Engineering Knowledge with powerful computer
Description
This course is a perfect fusion of CFD theory and software exposure. This course explicitly focuses on Space Claim (Core Skill),Meshing (Core Skill) and CFD process using simulation tools Ansys Fluent.
Chapter 1=Students will learn how to launch the Space Claim ,importing geometry, Exploring/familiarize the Ribbon Toolbars,Structural Tree and use the main tools such as Pull,Move,Fill and Combine
——————————
They will learn how to create engineering models in Space Claim
Student will learn how to test and compare the meshes
Learn difference between pressure and density based solver type in the Ansys Fluent
Learn what to do when there is a converge problem during solving session
This is course#4. There are total 10 courses(#1 through #10). Please check them as well.
Requirements
Basic Engineering Knowledge
Powerful computer has an Ansys Fluent installed
Description
Ansys Space Claim(Creating Model)= Creating 3D Model from scratch with using tools such as sketch creation,pull, blend,Split body,move, do practice with assembly model, and detailing the drawings.
you must be registered member to see linkes Register Now
;